Scootaloo M. Tina



Gender

Female

Occupation

Rainbow Dash's Fan

Status

Alive

Cutie Mark

None

Pony Type

Pegasus

Age

4 (5 in SWAG.MOV until the time reset)

Voiced by
Scootaloo M. Tina is a pegasus pony who idolizes Rainbow Dash. She has a purple mane, eyes, and tail, and an orange coat.
Biography
Edit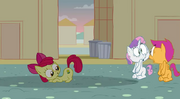 Scootaloo appeared running away from
Discord
when he was coming closer. Sadly, she and
Sweetie Belle
left
Apple Bloom
to get crushed by his foot.
She appeared when Rainbow Dash (who was Rainbow-Titan) got her wings ripped off by Discord, and yelled for her to get up because she believed that she can destroy him for good. Rainbow then felt the confidence, and was able to kick Discord off her back, and kill him with the Sword of the Holy Titans.
Opposites
Edit
In MLP: FiM, she is voiced by Madeleine Peters, but in PONY.MOV, she is voiced by Kimlinh Tran.
In MLP: FiM, she received a cutie mark that consists a shield with a wing on it, but in PONY.MOV, she hasn't gotton her cutie mark yet.
The only things similar to MLP: FIM and this show is that she is still a member of the Cutie Mark Crusaders, she's voiced by a female, and that they both like Rainbow Dash.
She makes her first speaking role in SWAG.MOV.
Like Twilight Sparkle and Apple Bloom, she's one of the characters who is a girl that's voiced by a girl.